The Pill-Free Solution to Pet Health!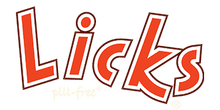 Pet Pantry & Dog Wash is proud to carry Licks in Colorado Springs, Colorado. LICKS are easy to use gel packets and gummi vitamins for dogs and cats. Our products were uniquely formulated by a veterinarian to have high levels of active ingredients and a 98% absorption rate (vs. 20% with pills and chews). In single dosed, fast acting delivery formats, LICKS has the solution for myriad health problems—from occasional anxiety to itchy skin.
Dogs Product
Dog Calming
Small Breed Dog Calming
Dog Calming Gummis
Small Breed Dog Multi-Vitamin Gummis
Small Breed Dog Multi-Vitamin
Small Breed Dog Skin and Allergy + Shiny Coat Gummis
Dog Digestion
Cats Products
Cat Calming
Cat Calming Gummis
Cat Skin & Allergy + Shiny Coat
Cat Hairball Remedy
Cat Hairball Gummis
Cat Multi-Vitamin
Cat Multi-Vitamin Gummis
Come visit our pet supply store in Colorado Springs, CO specializing in quality food, treats, and supplies for cats and dogs.